Page 3 of 3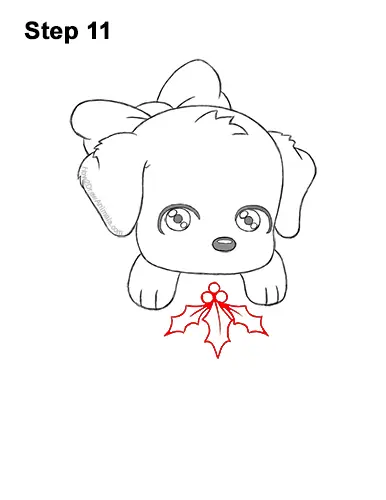 Step 11: Below the cartoon puppy dog's head and between the paws, draw three small circles for holly berries. Below the berries, draw a vertical line for the first part of a holly leaf. On either side of the line, draw curved/angled lines for the rest of the leaf. Add another leaf on the left side the same way but tilt the leaf a little bit. Add a third leaf on the right side using the same technique but tilt the leaf the other way.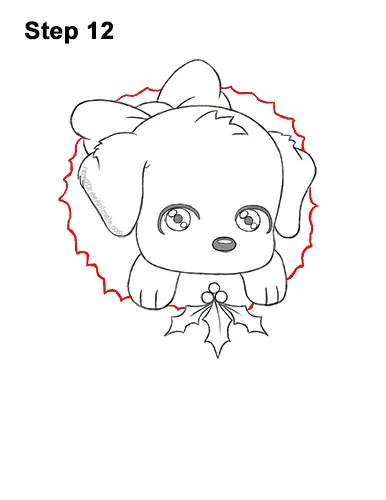 Step 12: Draw a circle that's made up of short, angled strokes around the head for the fluffy top part of the Christmas stocking. Draw the fluffy circle in sections around the head and don't overlap any of the previous line work. The shape doesn't have to be perfect. Just pay attention to where the angled lines start and end. The right side of the shape should be closer to the puppy's head than the left side.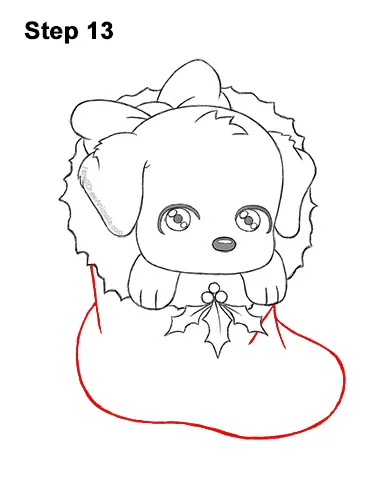 Step 13: On the lower, left side, draw a vertical line with a curved line under it for the first part of the stocking. On the right side, draw a shorter vertical line with a longer, curved line under it that stretches far to the right. Connect the lines at the bottom using a long, wavy, horizontal line to complete the shape of the Christmas stocking. The right side should be lower. Sketch lightly at first and only darken the lines when you get the shape right.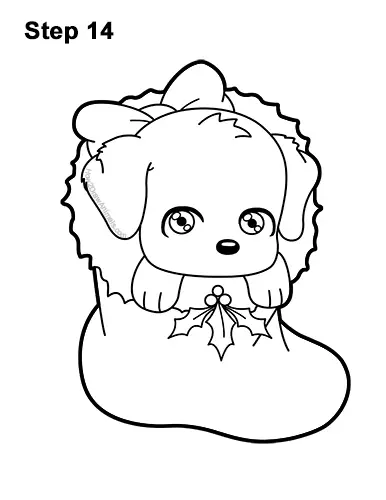 Step 14: Go over the lines with a pen or marker to make your cartoon Christmas puppy drawing permanent. Take your time and be careful when you ink to avoid any accidents. After the ink dries, get rid of every pencil mark with an eraser.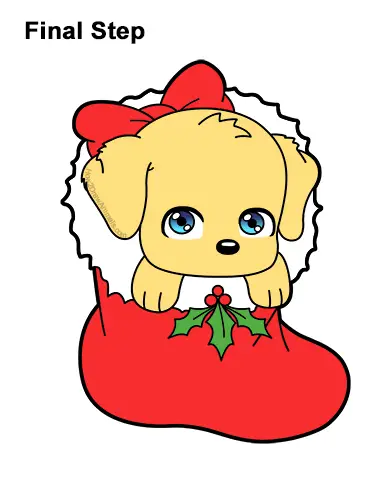 Final Step: Color your Christmas puppy drawing using color pencils, markers or crayons! Use red for the bow, the berries and the lower half of the stocking. Use yellow to outline the bottoms of the eyes and color the rest of the puppy dog's body yellow. For the eyes, use dark blue at the top and light blue at the bottom to give them a rounder look. Use green for the holly leaves. Don't forget to pause the video after each step to draw at your own pace.
Thanks for visiting! Subscribe to the How2DrawAnimals YouTube Channel for a new tutorial every week.

To learn how to draw popular cartoon characters, visit EasyDrawingTutorials.com.

To learn how to draw Manga, visit How2DrawManga.com.
RELATED TUTORIALS