Page 2 of 2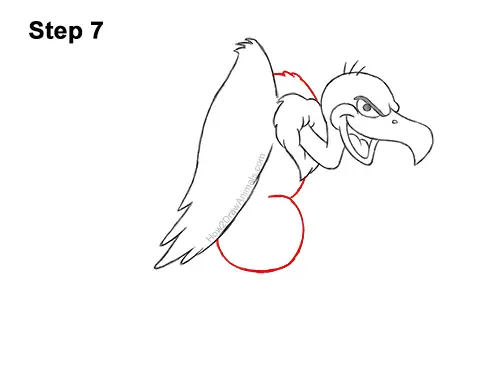 Step 7: At the top, draw a curved line from the head to the vulture's wing for a hump on the back. At the bottom, draw a big, circular shape for the lower half of the bird's body and belly.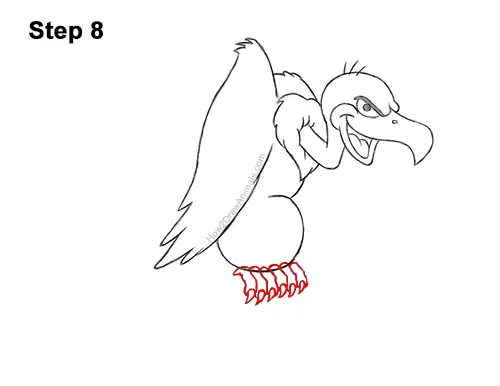 Step 8: Under the belly, draw the short, curved lines for the first toes. It's okay to overlap the line for the belly. On the bottom of each toe, draw a small, pointy, triangular shape for the vulture's sharp talons. Close off the toe shape on the left. Close off the toe shape on the left. On the right, draw three more curved lines for the bird's other toes. On the bottom of each toe, draw a pointy, triangular shape for the talons. The talons should be round at the top.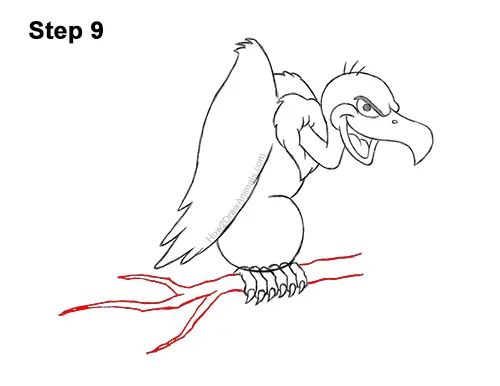 Step 9: To the left of the toes, draw three thin, long, pointy shapes to give the vulture a branch to stand on. The branch doesn't have to be perfect. It looks better if it's misshapen and jagged. Just make the tips thin and pointy. You can also add more branches if you'd like. To the right, draw a couple more lines for the branch's base.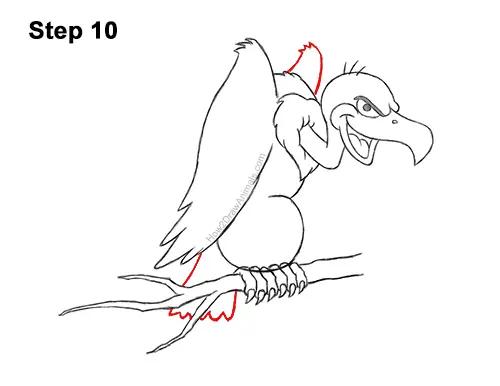 Step 10: On top of the back, draw a thin, curved shape for the vulture's other wing. Use jagged shapes for feathers. On the bottom, left side, draw a big, square-like shape with a jagged bottom for the bird's tail. Don't overlap the branch.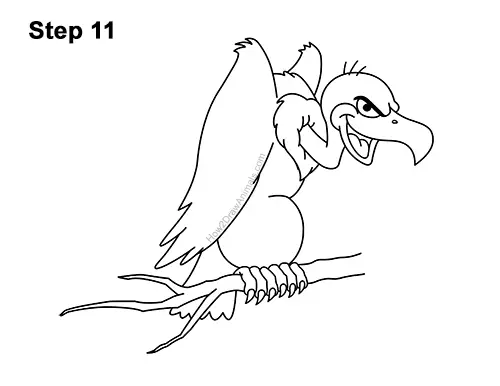 Step 11: Go over the lines with a pen or marker to make your vulture drawing permanent. Take your time and be careful when you ink to avoid any accidents. After the ink dries, get rid of every pencil mark with an eraser.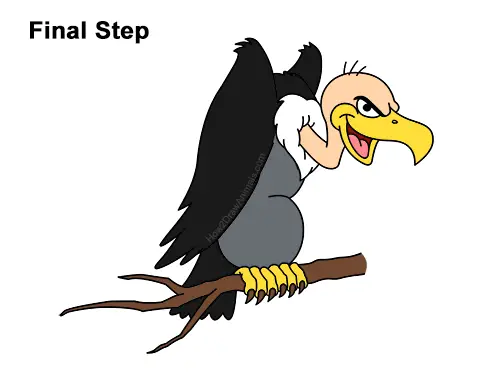 Final Step: Color your vulture drawing using color pencils, markers or crayons! Use peach or pink for the head. Use yellow for the beak and feet and black for the wings, back and tail. Color the front part of the bird's body gray. Use dark red for the inside of the mouth and pink for the tongue. Use brown for the talons and branch. Don't forget to pause the video to draw at your own pace.
Thanks for visiting! Subscribe to the How2DrawAnimals YouTube Channel for a new tutorial every week.

To learn how to draw popular cartoon characters, visit EasyDrawingTutorials.com.
RELATED TUTORIALS